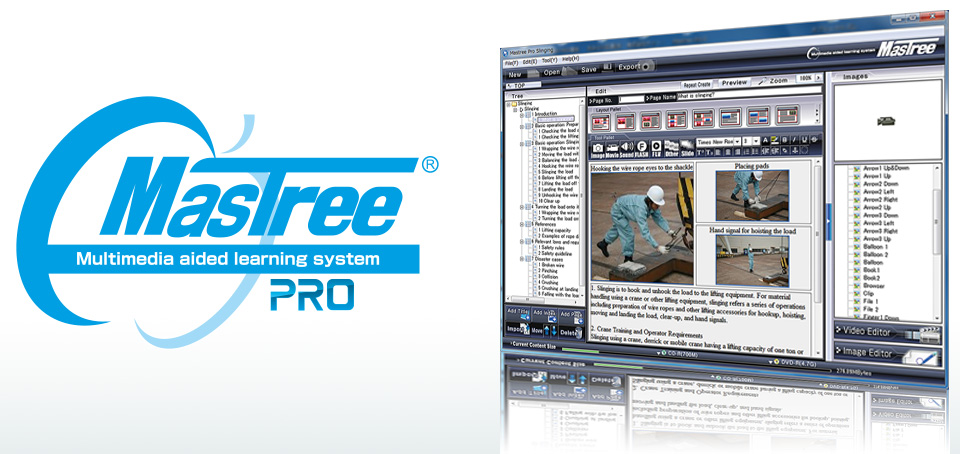 Examples of Issues
If you have any problems with knowledge-and-skills-transfer or training, the is an ultimate solution!
For those developing training content
* Software is difficult to use.
* Styles vary from person to person.
* Existing content is not updated.
For those teaching or learning
* Complicated workflows and technical skills are difficult to learn from written instructions.
* Editing materials alone is too hard.
* Attending workshops is not enough for understanding.
For those promoting activities
* Workshops require time and venues.
* Printing of updated content is troublesome.
* Teaching overseas engineers is necessary,
but teaching overseas is costly and time-consuming.
Using a drag and drop environment
Just drag and drop to use. While inserting the prepared materials into the template, enter descriptions. You can also create a link to an internal or external page!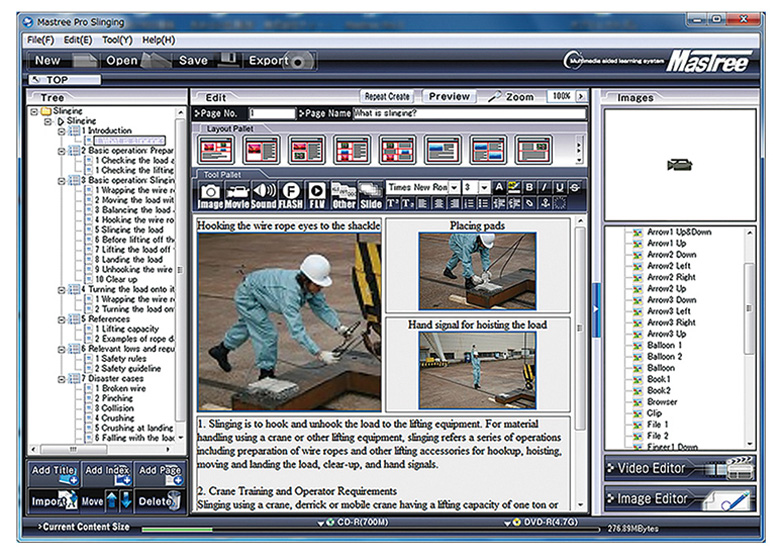 1. Start quickly with ready-to-use layout templates!
Layout templates provided! You can instantly change layouts.

2. Resize images quickly and freely
You can change the size of the image to be inserted.
Fast and easy to reduce file size!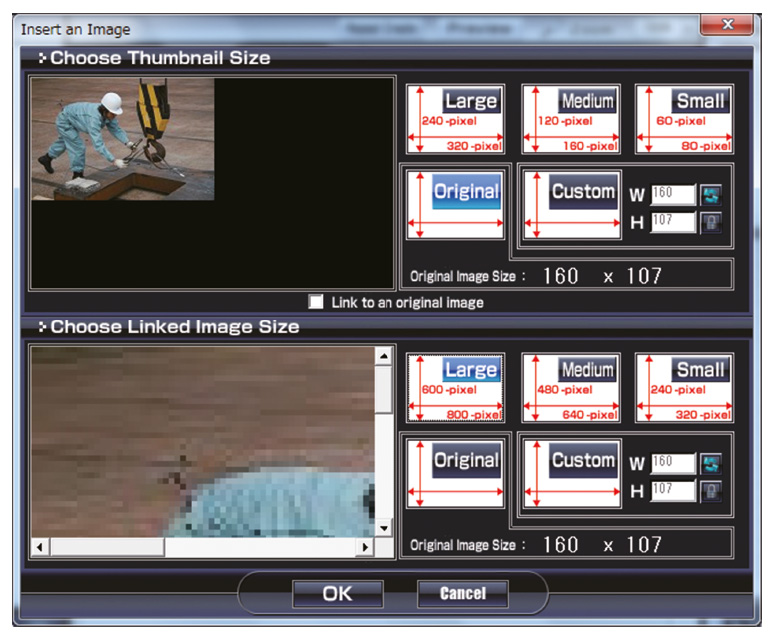 3. Video editing software
4. With Still Image Editor, edit quickly
Still Image Editor enhanced with new functionality!
Transparency effect is now available. Quick and easy to create images!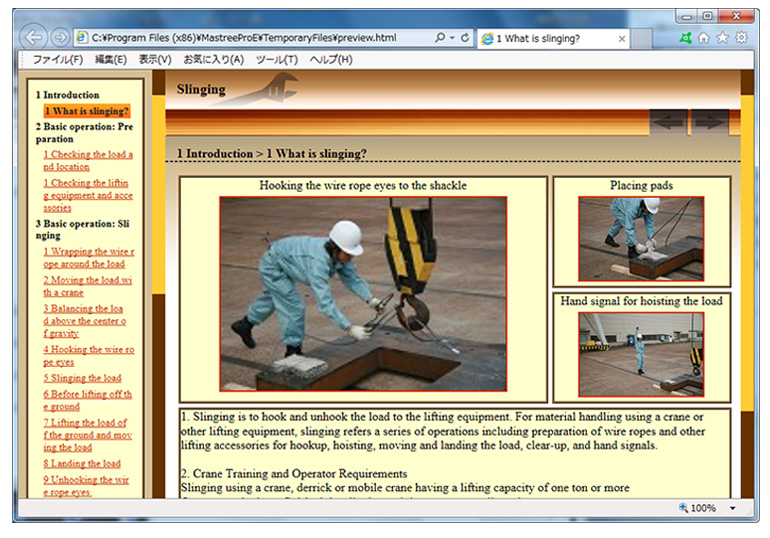 5. With one look you know content size!
The indicator bar shows the current size graphically.
Easy to backup your project to CD or DVD!

Exporting your project as HTML
Your project is exported in a HTML format and viewable with a standard web browser (Internet Explorer).
Navigating and viewing the project is easy, just like browsing a website.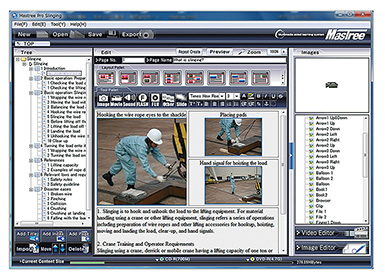 Use design templates to maintain consistency
With two design templates, you can change the way your entire project looks!
Easy to control the project! Design templates allow multiple editors to work on the same project.
Various print functions
Just pick the pages you want to print.
Then, original training handouts are printed.
ISO-compliant print templates are available!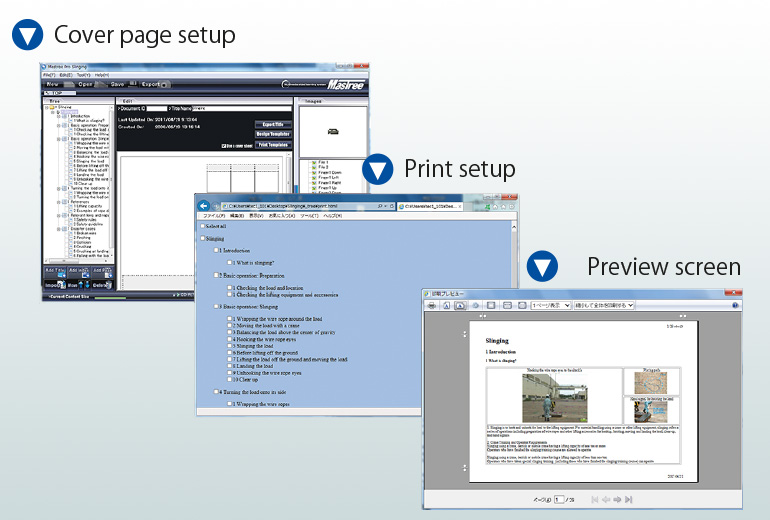 With Mastree, you can:
1. Transform documents such as operating instructions and SOPs into media-rich and engaging content
2. Create a media-rich facility maintenance manual
3. Create media-rich maintenance and repair manuals
4. Create a media-rich and engaging operations manual
5. Develop an effective and thorough orientation for part-time and temporary employees
6. Transform various manuals for service industry into full multimedia content
(customer service manual, operations manual)
7. Develop training materials for school students and new employees
8. Deliver cooking recipe videos to outlets via website
9. Create a multimedia dictionary with search function, movies, pictures and sounds
A complete solution for knowledge-and-skills-transfer and training activities
We produce graphic images (animations, illustrations, etc.) that strengthen your knowledge-and-skills-transfer and training activities, as well as training tools (training videos and manuals, etc.) that support employee development programs.
Please feel free to inquire about further information.
System requirements
Mastree Pro ver.4 (Windows8 or higher)
| | |
| --- | --- |
| Operating system | Windows 8/8.1/10 |
| CPU *1 | 1GHz or faster 32-bit or 64-bit processor |
| Memory *1 | 4 GB or more recommended |
| Hard disk space *2 | 5 GB or more recommended |
| Web browser *3 | Internet Explorer 11 |
| Display | 1024 x 768 or higher, 16-bit color or higher |
| DVD-ROM drive | Required to install this product |
Mastree Pro (~ Windows 7)
| | |
| --- | --- |
| Operating system | Windows 7 |
| CPU *1 | 1GHz or faster 32-bit or 64-bit processor |
| Memory *1 | 4 GB or more recommended |
| Hard disk space *2 | 5 GB or more recommended |
| Web browser *3 | Internet Explorer 10 or 11 |
| Display | 1024 x 768 or higher, 16-bit color or higher |
| DVD-ROM drive | Required to install this product |
*1: Even if the CPU requirements are met, videos may not be played back smoothly.
*2: The diskspace taken by content files is not included.
*3: Videos may require the installation of a plugin for
playback. Make sure you have enabled JavaScript in the web browser setting.